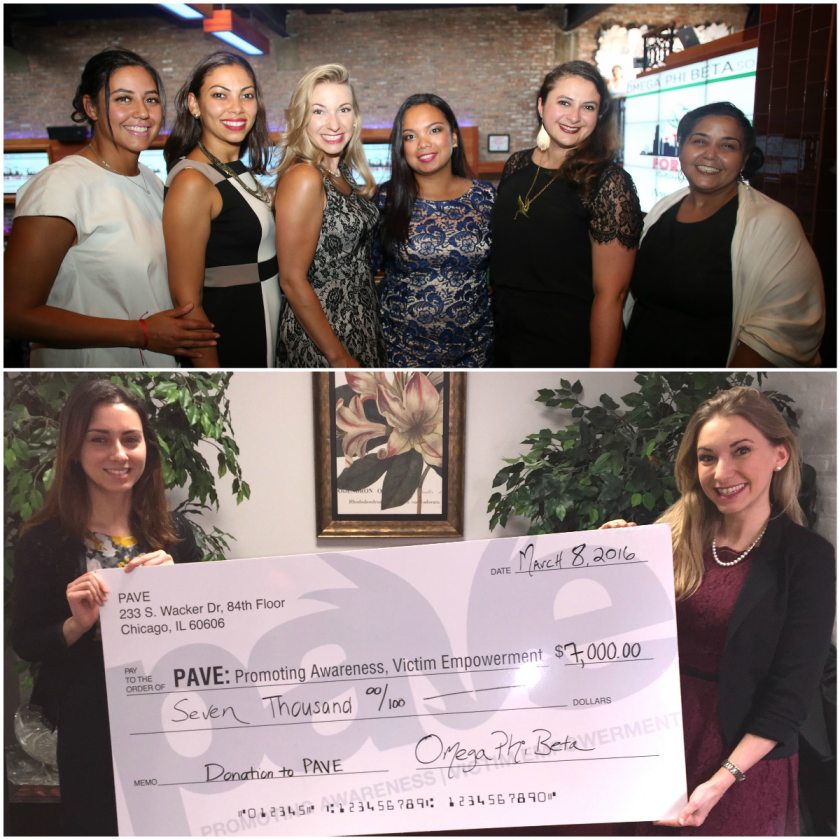 2015 ROHW Raises $7,000
OPBSI Raises $7,000 at 4th Annual Ray of Hope Walk for Beneficiary, PAVE
On this International Women's Day, and kicking off our Founder's Week, Omega Phi Beta Sorority, Incorporated (OPBSI) is pleased to announce that we were able to raise $7,000 through our 4th annual Ray of Hope Walk to End Violence Against Women (ROHW) to benefit PAVE, Promoting Awareness | Victim Empowerment. The fundraising efforts began in July of last year and continued through the end of 2015 with various campaigns leading up to the ROHW in October.
"There is no event more enjoyable and impactful to me than our annual Ray of Hope Walk. Every member of Omega Phi Beta works hard toward this. We come together with fellow Greek lettered orgs, partners in philanthropy, guest speakers and artists, and the communities we serve to talk about the issues. It's awareness, but it's also celebration – because we all believe that through teamwork and support we will eradicate violence against women." Elizaveta Reyes-Tome, President of Omega Phi Beta commented.
Through the efforts of our National Leadership team, Chapters, Collectives, our partners, and the community at large, the Ray of Hope Walk in New York and Chicago had over 420 participants registered. The ROHW was held in two major cities for the second consecutive year with 150 attending the New York City edition on October 3rd and 80 people attending the Chicago Run/Walk on October 17th. This year the walk featured performances and speeches by prominent members of the community, spoken word artists, singer/songwriters, and even some celebrities! For a full recap of the walk visit OPBSI's Facebook page: www.facebook.com/OmegaPhiBeta.
In New York City, actress Selenis Leyva from the hit Netflix show "Orange is the New Black" joined OPBSI on the stage to talk about what this cause means to her: "We have a responsibility to ourselves, to our children; to our community to make sure we speak up, we speak out... we have so much power when we unite."
The theme for the year was "Planting Seeds of Hope" and aligned with the chosen beneficiary, PAVE, in support of their mission, vision, and hard work towards eradicating sexual violence against women and empowering survivors.
PAVE is a multi-chapter national 501c3 nonprofit that works to prevent sexual assault and heal survivors through social advocacy, education, and victim support. PAVE's work has appeared on TODAY, Good Morning America, CBS This Morning and many other programs. This year, PAVE launched a groundbreaking campaign called #ConsentIs to promote the importance of consent on college campuses (www.ConsentIs.org). OPBSI made its donation to PAVE through the "NO MORE" Challenge sponsored by Verizon Wireless for NO MORE Week of Action, March 6th through March 12th, "aimed at making domestic violence and sexual assault awareness and prevention a priority year round." OPBSI is proud to support PAVE in this challenge which allows nonprofits combatting sexual assault and domestic violence a chance to double or even triple their fundraising power. We encourage everyone to contribute to PAVE's life changing work through the NO MORE Challenge here: http://pavethewaychallenge.com or to learn more about PAVE at www.ShatteringTheSilence.org